08.11.2016
The "RTL Service" Group is proud to present a new version of the local positioning system (IPS) RealTrac 3.0. The RealTrac 3.0 scalable system is produced in order to provide positioning, localization and tracking the people, equipment and other objects within the premises or in open zones, wherever the use of traditional global navigation systems is impossible or inefficient.

New built-up local positioning RealTrac 3.0 system is the example that will guide our competitors on both domestic and international markets.


Timur Poltorykhin, "The RTL Service" Group COO

The key benefits of the new version of the local positioning RealTrac 3.0 system:
New electronic component.
Switching to new electronic component and its standardization helped to make the cost of the equipment for the RealTrac 3.0 system 4x less. It made the RealTrac 3.0 one of the most affordable local positioning and data transmission systems in the world.
Proprietary algorithms and new technologies.
Proprietary algorithms of positioning and data transferring and cutting-edge technologies provided significant increasing of the positioning accuracy up to tens of centimeters. Another advantage of the new RealTrac 3.0 system is its operational stability in demanding conditions, especially, in mines, manufacturing industries and warehouse complexes where there is a signal reflection and a lot of interference for precise positioning and data transmission.
The scalable configuration of the system.
On the development stage of a new version, scalable type of configuration was applied. A key advantage of this approach is that a client can get modules necessary for his needs only. Scalable expansion slots give an opportunity to link additional radio modules on the request (for instance, to switch between zone and accurate positioning). The interdependency of the system elements was also decreased, that improved operational stability and simplified development and maintenance of the system.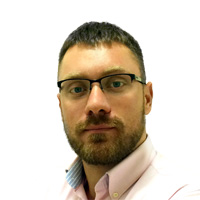 We opt for the scalable configuration of the system, and it completely meets the requirements of our partners and clients. You can get detailed information on our website or from our account managers. In brief, there is no longer need choosing between cheap and easily implemented zone positioning or expensive, with difficulties in implementation or analysis of accurate positioning. The system is like a construction set and it is implemented and launched within 20 days. In addition, this is the most effective solution on the market. It can be complemented with additional voice communication or accurate positioning modules on request.

In future, if a customer wants to switch from the zone to the accurate positioning, add voice communication and remove the 70 % of wires of the anchors, it is enough to buy the built-in expansion slots, and add wireless hotspots wherever accurate positioning is needed. It will provide a hybrid infrastructure with the zone and accurate positioning. The wireless radio module complemented with the more advanced versions of the tags allows you to create voice communication system and even telemetry transmission from external devices to our system and our reports, or to external systems through one of the best in the industry positioning API.

Timur Poltorykhin, "The RTL Service" Group COO

Open API.
RealTrac system 3.0 also got a new open API for developers that provides integration of the system with various customer systems. For instance, with access control systems, CCTV, business analysis systems and management.
We have already seen huge interest from our foreign partners and colleagues. We will present demo kits to our Golden partners in November 2016. The breakthrough that we have made is based on a new approach to underground solutions.

I would advise anyone who is interested in the system to contact our sales department as soon as possible to order a free demonstration kit. While working, we have a very open policy, we are eager to share interesting and useful information on our official website, as well as technological blogs (for example: habrahabr) and are open to a dialogue with experts ,professionals and with our clients and business partners. Our goal is to make the best positioning system not only for the Russian, but also for the international market.

Timur Poltorykhin, "The RTL Service" Group COO

Thanks to the advantages of a new version of the RealTrac 3.0 system our customers get a new quality of local positioning of personnel and equipment at an affordable price!
Order presentation of the RealTrac 3.0 system